When our car accident lawyers in Atlanta meet with a new client, they usually have a lot of questions. One of the first things they ask us is how much their case is worth. They also want to know if they'll be entitled to punitive damages.
Here, we'll explain what punitive damages are and when the courts are willing to award them.
Your Car Accident Lawyer in Atlanta Can Demand Three Types of Damages
When you sue somebody after a car accident, you'll have to file a complaint with the court. In this complaint, your Atlanta accident attorney must list your demand for damages.
In most of the cases our firm handles, our clients are entitled to some or all of the following:
Economic damages
Non-economic damages
Punitive damages
It's important that you understand the difference between these things. It's the best way for you to get an idea of what your case may be worth.
Economic Damages Such as Medical Bills and Lost Wages
One of the most common types of damages in a car accident case are economic damages. These are just what you would imagine them to be. They are damages that reimburse you for any financial losses you suffered during your accident.
Economic damages may include the following:
Medical bills – You shouldn't be held responsible for paying for medical treatment after your accident. The person who caused your injury should be liable for the cost of any medical care you need now and in the future.
Lost Wages – If you miss more than a week or two from work, your car accident lawyer in Atlanta can demand damages for lost wages. You'll have to submit proof that you missed time from work. This is usually done using paystubs or a report from your employer.
Lost Future Income – If you can no longer work because of your accident, you can demand additional damages. Your Atlanta accident attorney can demand the difference between what you would've earned had the accident never happened and what you'll now earn.
Since every case is different, there's no way to know upfront what you'll be entitled to. For example, if your car is damaged or destroyed in the crash, your Atlanta accident attorney would also demand compensation for property damage.
Non-Economic Damages Including Pain and Suffering
In addition to economic damages, you can also demand non-economic damages. This includes things that cannot be proven using receipts or bills. The main type of non-economic damages is compensation for pain and suffering.
Pain and suffering damages are meant to compensate you for any physical or mental anguish you experienced as a result of your accident.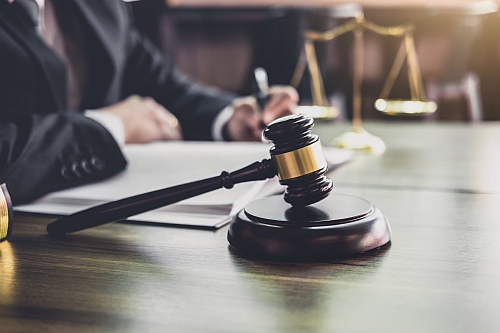 Punitive Damages May Be Available in Certain Situations
The third type of damages our Atlanta accident attorneys may demand on behalf of their clients is punitive damages. It is difficult to convince a judge that you're entitled to these damages. It is very rare that they're awarded in car accident lawsuits.
Punitive damages are not meant to compensate the victim. Instead, they are meant to punish the defendant. They are typically awarded in product liability cases like those involving dangerous drugs.
They are also awarded in drunk driving accident lawsuits. In these cases, the courts want to punish the defendant for their reckless behavior.
When Can Your Atlanta Accident Attorney Demand Punitive Damages?
There are certain situations in which punitive damages are warranted. Whether your car accident lawyer in Atlanta can demand punitive damages depends heavily on the facts of your case.
According to OCGA §51-12-5(1)(b), these damages are only warranted when the defendant's behavior involves "willful misconduct, malice, fraud, wantonness, oppression, or that entire want of care which would raise the presumption of conscious indifference to consequences."
To put this more simply, your Atlanta accident attorney must demonstrate that the defendant behaved in a terribly reckless manner. For example, if you were injured in a drunk driving accident, you would have a reasonable chance of receiving punitive damages.
You Must Demand Punitive Damages in Your Initial Complaint
It's critically important that your car accident lawyer in Atlanta demand punitive damages in your initial complaint. If you fail to do this, you will essentially have waived your right to these damages.
The good news is that you don't have to worry about this on your own. Your lawyer will make sure they demand whatever damages they believe they can prove in your complaint.
In fact, there is no danger in demanding punitive damages in any car accident lawsuit. It's better to be denied punitive damages than to be told that you would've been entitled to them had you listed them in your initial demand for damages.
Georgia Limits the Amount You Can Receive in Punitive Damages
When it comes to your regular damages, your Atlanta accident attorney can demand whatever is appropriate. However, there is a cap on how much you can receive in punitive damages.
According to OCGA §51-12-5(1)(g), the most a plaintiff can receive in punitive damages is $250,000. The point of awarding someone punitive damages is not to compensate them in any way. It is to send a message to the defendant.
There Are Three Exceptions to This Rule
As with most other rules, there are exceptions to the cap on punitive damages. In Georgia, there are three situations in which the $250,000 cap does not apply.
The first is when you are suing somebody in a product liability case. This exception usually applies when a number of plaintiffs are suing the same defendant. For example, if there is a dangerous product that has injured or killed multiple people, the court may award punitive damages in excess of $250,000.
The second exception applies when the victim's Atlanta accident attorney can prove intent. If the defendant had specific intent to harm the plaintiff, the judge may award a significant amount of punitive damages.
The third exception is one that is more commonly seen by car accident lawyers in Atlanta. In cases where the defendant was drunk driving, the judge may award more than the limited amount.
Reach Out to a Skilled Atlanta Accident Attorney Sooner Rather Than Later
If you were hurt in any sort of accident, there's a chance you'll be entitled to compensation. In certain cases, our Atlanta accident attorneys are able to get their clients punitive damages as well.
The only way to know if you may be entitled to any compensation is to sit down with an experienced car accident lawyer in Atlanta. They'll review your case and answer any questions you may have. They may even be able to give you an idea of what your case is worth.
The good news is that it won't cost you anything to do this. Our firm offers all new clients a free, initial consultation.