Being a victim of a Georgia auto accident is usually painful and frustrating. The financial losses can prove too costly to bear. But, an Atlanta automobile accident attorney can help you properly file a legal claim to recover damages.
Before speaking to your lawyer, you might wonder what compensation you're eligible to obtain in Atlanta, Georgia. You've probably even heard of car crash victims recovering special damages.
So, what are these special damages? Also, can a Georgia auto accident victim receive this type of compensation? We answered these questions in this article.
An Atlanta Automobile Accident Attorney Explains Special Damages
Frequently, automobile accidents happen when one or more drivers act recklessly or carelessly when they're on the road. The consequences are injuries to other road users or damage to other vehicles. Damages are, in legal terms, the losses that a Georgia auto accident victim experiences.
A court of law may impose on the at-fault party to pay for expenses resulting from the auto accident. In this case, the compensatory payments are special damages.
Special, in this case, implies that the damage inflicts economic or financial harm on the victim. Also, the costs of these losses are quantifiable. So, what are the measurable losses that amount to special damages in a Georgia auto accident?
We listed them below.
A typical car crash effect is injuries to the driver and passengers. So, medical care is often necessary after an auto accident. In Georgia, accident victims can recover money on medical treatment, and this coverage includes current and future medical bills. These expenses cover hospital visits, examinations, scans, consultations, prescription medication, surgery, rehabilitation and physical therapies, and other medical bills.
Car accidents may cause reparable or complete damage to the victim's car, motorcycle, or bicycle. When this damage occurs, the at-fault party bears the costs of repairing or replacing the victim's vehicle.
Georgia law declares that a car owner can receive an amount equal to the vehicle's fair market value. In addition, victims can recover damages for personal items lost or damaged due to the Georgia auto accident.
Asides from vehicular damage, you may also sustain injuries in a crash. Depending on the severity of the wound, you may have to take time off work. So, you may lose your wages and other employment benefits because you missed work. 
These lost benefits constitute damages in a Georgia auto accident case. Therefore, you can recover lost income and also get compensated for lost capacity to earn due to the accident.
After a car accident, the law allows for an injured victim to recover these damages. First, however, you must know if you are eligible to recover damages. An Atlanta automobile accident lawyer can help you determine if you can file a claim.
How to Determine if a Georgia Auto Accident Victim Qualifies to Collect Special Damages
A Georgia auto accident claim is an example of a personal injury case. In these situations, a victim usually sustains injury or harm due to the wrongful actions of another person and is seeking compensation.
It's vital to ensure that the state law deems you eligible to recover damages. Also, determine if you have any fault that can keep you from getting maximum compensation.
Georgia's Modified Comparative Fault Law
Recovering compensation usually involves filing a claim after an automobile accident. After investigation, you may be found partially at fault, even as a victim. Thankfully, Georgia operates a modified comparative fault system. 
This law can eliminate or reduce the amount of compensation you get. For example, if a person is less than 50 percent at fault in a Georgia auto accident, they can file for settlement from the other party. 
However, their percentage of liability will reduce the potential compensatory amount. Note that if your liability is 50 percent or above, you are not eligible to file for or receive compensation.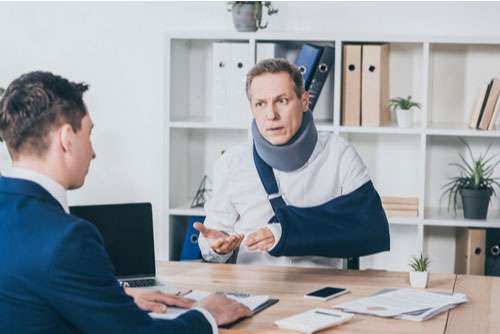 Other Types of Recoverable Damages in an Auto Accident
Victims of Georgia auto accidents suffer other losses that are not measurable to a specific dollar amount. So, besides special damages, compensation exists for the following.
General or Non-Economic Damages
General damages refer to all the non-monetary losses in a Georgia auto accident. So, these damages include the mental, emotional, and psychological effects of an auto crash on a victim's well-being.
These damages are non-economic as they do not compensate for actual monetary losses. In this case, you cannot prove or calculate losses using receipts or bills.
Some examples of non-economic damages are:
Anxiety, depression, and other forms of mental anguish and emotional distress

Disfigurement and scarring

Loss of companionship, like in a wrongful death case

Loss of reputation

Pain and suffering

Physical impairment or disfigurement due to accident injuries

Reduced quality or enjoyment of life

Shortened lifespan

Loss of consortium
Unlike economic damages, you cannot precisely measure the impacts of these losses or conditions. Still, the law can only offer reprieve by allowing you to receive financial compensation.
Calculating non-economic damages is a bit challenging. Personal injury lawyers and insurance companies use a multiplier method to determine an amount. 
For instance, they pick a number from one and five to multiply what you received as economic damages. So, if you get $20,000 as special damages, and the multiplier is 3, you get $60,000.
Punitive Damages
These damages differ from special or general damages. In some cases, the actions of the at-fault driver in your Georgia auto accident could show willful misconduct, fraud, oppression, malice, or conscious indifference towards ensuring the safety of other people.
So, asides from losses, a civil court can award damages to punish wrongful behavior. Punitive damages essentially serve to deter other drivers from breaking the law.
Recovering special (or any other) damages can be vital in restoring your finances and general well-being after a Georgia auto accident. First, however, you'll need the guidance of a legal professional.
It's possible to start a legal action by yourself. But, hiring a personal injury attorney gives you a better chance. An Atlanta automobile crash attorney can help you gather the necessary evidence to file a valid injury claim.
Were You Involved in a Car Crash? Contact an Atlanta Automobile Accident Attorney
Recovering from an auto accident can be frustrating, especially when seeking compensation from a guilty party. An Atlanta automobile accident attorney has the experience and resources to represent your best legal interests.
At The Weinstein Firm, we provide quality legal advice for your car accident case. We assist you in making informed decisions, whether in negotiating with insurance companies or representing you in court.
Do you want to recover damages from your Georgia auto accident? Call us today to speak with a personal injury lawyer in Atlanta, Georgia.