Car accidents can throw your life into chaos. It is usually followed closely by doctor appointments, vehicle repairs, insurance company calls, therapy sessions, and choosing an Atlanta, Georgia, car accident lawyer. Most times, it's tempting to simply take the cash and run when the insurance company makes a car accident settlement offer. 
A quick car accident settlement offer means you have the cash to handle repairs and medical care. It makes you feel like you're getting your life back to normal, and sometimes, it's scary to think there might not be better offers in the future. But this isn't always true. 
A quick settlement offer might only be a smokescreen, and accepting it can be a bad decision. So to help you make the right choice, we put together four things to consider before accepting a car accident settlement offer. 
Four Factors to Consider Before Accepting a Car Accident Settlement Offer
Before accepting an offer after a car accident, there are four crucial factors you need to consider. Not considering these factors might make you receive less than you deserve.
The Value of Your Case
One of the top factors you should consider before accepting a car accident settlement is the value of your case. Before filing a personal injury lawsuit, you have to value your claim. Although this could be difficult, an Atlanta car accident lawyer can help you accurately evaluate your claim.
Valuing your claim ensures you can recover the total damages you deserve. It depends on your past and future medical expenses, property damage, past and future lost wages if you can't return to work immediately, and permanent disabilities. It also accounts for non-economic damages like pain and suffering. 
You should also consider your out-of-pocket costs. This means keeping careful track of all receipts and bills during the claim. The best part is that it doesn't matter if you have auto-accident insurance; you can still receive maximum compensation for damages. The basic principle of a fair settlement is that it compensates for all of these damages.
Consider the worth of these losses before accepting a car accident settlement offer. If you don't ask for the compensation you deserve from the beginning, the proposal you get will involve much lower numbers. When you ask for a car accident settlement, and the offer you receive doesn't match up to the amount you want, then don't accept.
Sometimes, it's best to wait till you're fully recovered before you sign a car accident settlement agreement. This is because reopening settlement offers after signing is next to impossible. Therefore, consider the total worth of your losses before concluding the legal process.
The Strength of Your Evidence
Another critical factor you need to consider is the strength of your evidence. It is an essential part of your car accident case and includes police reports, expert witness statements, eyewitness statements, and even accident reconstruction reports. The stronger your evidence, the better your chance to recover damages.
If your evidence isn't strong, you might have to accept the car accident settlement offer made by the insurance company. However, you should still speak to your Atlanta, Georgia, car accident lawyer before taking any offer.
Additionally, you should always seek medical attention after a car accident, whether you believe you suffered injuries or not. Only medical professionals can diagnose internal injuries accurately. It will also ensure you have a complete medical record from the day of the accident as evidence to support your claim.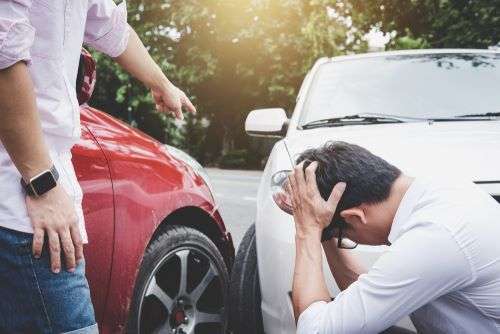 You should also keep diligent documentation of your treatment plan and recommendations from the medical professional. Take notes of all prescriptions and over-the-counter medications purchased. 
Trips to the doctor or physical therapists and medical equipment purchased or rented are also crucial. Again, the more evidence available, the easier it will be to ensure maximum financial recovery.
The Presence of Comparative Fault 
Another factor worth considering when the insurance company makes a car accident settlement offer is the presence of comparative fault. It determines the strength of your case. A strong case is one without liability while a weak claim is one where you have some fault.
Georgia is a modified comparative negligence state. This means the compensation you can recover is directly affected by your claim percentage. Thus, if the negligent party can prove you were partly to blame and are successful with this argument, it will drastically reduce the damages you can claim. 
Under Georgia laws, you might not be able to recover damages if the other party can prove you are 50% responsible for the damages caused by the accident. Therefore, ensure you analyze the facts of your case to discover the weak points. If there are any, gather evidence to refute the defense arguments. 
The Law
Most people are unaware of how the law applies to their case. Settlement practices are usually governed by law, and the Georgia Unfair Settlement Practice Code ensures that insurance carriers do not engage in unfair claim settlement practices.
This means insurance companies must ensure prompt and fair settlement of claims made. Your Atlanta, Georgia, car accident lawyer can evaluate the car accident settlement offer made by the insurance carrier to determine if it is acceptable or not. 
However, the protections the law offers become limited once you sign a car accident settlement agreement. It also eliminates any opportunity to pursue additional damages, regardless of new information that might come to light.
The best way to know if a car accident settlement offer aligns with Georgia car accident laws is to contact a car accident lawyer. A knowledgeable attorney from Atlanta understands the rules and can review the settlement offer to see if it aligns with your rights and interests.
Get Legal Help Today From an Experienced Atlanta, Georgia, Car Accident Lawyer
Car accidents can result in severe injuries that could affect your life in many ways. If you're not responsible for the car accident, you might be able to recover compensation for past and future damages. But, first, you must ensure that the insurance company isn't working against you. 
Most insurance carriers try to pay as little as possible and make a poor car accident settlement offer. Fortunately, you can hire an Atlanta auto accident lawyer to assist you with your car accident claims. When you meet with our injury lawyers in Atlanta, you will get all the information you need about your case. 
The Weinstein Firm's experienced lawyers are here to help you secure maximum compensation. In addition, we'll evaluate your case and advise you on the best course of action to take. Luckily, we offer a free case evaluation, so contact us today to learn how we can help you.