If you were hurt in Douglasville, GA, you may be facing a great deal of uncertainty along with growing medical bills. However, you may have a legal right to recover cash to pay for your medical bills, physical therapy, and lost time from work. And, it might be much greater than the insurance provider first offers. You need to speak with a personal injury lawyer near Douglasville.
The Weinstein Firm has been helping injured people receive the money they need for many years. We've become one of the most successful in the state at getting insurance companies to pay maximum settlements. Our injury firm near Douglasville has the experience and the skills to take on the toughest claims. Call us at (770)HELP-NOW and get your free consultation.
What Should I Do Following An Accident?
After being injured, the number one thing you should do is to see a physician. If you think you weren't hurt or not severely, think again. Injuries can become worse over the years or can create complications. Have a doctor evaluate you. We arrange this for our clients to get them started. Our other major recommendation is to have you use us to be your personal advocate.
This means the following two easy steps:
DO NOT take insurance company money. Is common for an insurance company to offer money to victims. While this seems generous, it is actually the opposite. The insurance company is currently attempting to earn a larger profit by settling your claim quickly and for the smallest amount possible. If you choose the insurance money, you'll have to sign away your right to recover anything else even if your injuries prove to be significantly more serious and costly than you initially thought.
ALWAYS consult with an attorney before you take an insurance company check or sign any paperwork. DO talk to a personal injury lawyer near Douglasville. A lawyer has the experience to assess the legal side of your accident and tell you if you have a case that is fantastic. An attorney can get experts to do a complete evaluation and compute just what your injuries are going to cost. And, insurance-provider offers can be reviewed by a lawyer and who pushes hard to get the insurance company to give you exactly what your injuries are worth. You may recover tens of thousands of bucks more simply because you've got a personal injury attorney.
How Can I Tell if I Have a Valid Personal Injury Claim?
We see many injured people who convince themselves or believe that no one is at fault. However, the law views fault differently than that. If someone else broke a law or wasn't as careful as they should have been, they were negligent. If harms are caused by someone's negligence, they must be paid for by the negligent person. There are several strategies used. By way of example, a driver may be negligent in driving drunk, texting and driving, or failing to stop at a stoplight. A property owner might be negligent in failing to wash up a spill that is slick. Conditions that lead to personal injury claims include:
Vehicle accidents
Being struck by a car while walking or bicycling
Nursing home neglect
Being hurt by a product that was defective
Being injured by a medical device
Being hurt by prescription medication that are harmful
Almost any type of harm can potentially result in your personal injury claim. The perfect way to tell if you have a claim is to speak with a good personal injury lawyer. If you were injured in a car accident, our car accident lawyers near the City of Douglasville will be able to help you.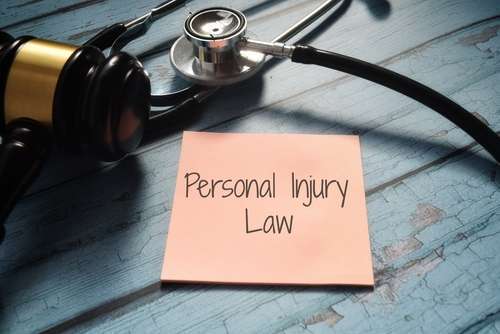 Do I Have To Sue Somebody in an Injury Claim?
Not usually. Most people can recover money outside the courtroom through negotiations. And in most cases, this money is covered by an insurance policy company and not from any individual. Sometimes the insurance company won't negotiate unless we file a lawsuit. This could happen because the company believes it could undermine our witnesses or because the insurance company thinks its evidence is strong.
If you are in this situation, we give you our opinion of your case's potential and the pros and cons of going to the local courts in Douglasville. Our lawyers are prepared to be with you if you wish to take your case to court. Normally things play out because lawsuits are expensive, and insurance companies are usually willing to negotiate to avoid the courtroom.
In The Weinstein Firm, we prepare each case meticulously. We take the opportunity to run our own investigation, crunch our own numbers and to cast the injury from your best vantage. When we reveal our proof, insurance companies often substantially increase their offers.
How Much Do Personal Injury Attorneys Near Douglasville cost?
We don't want injured folks to give up their rights because they cannot afford a lawyer. And we don't want you fighting to pay legal bills on top of everything else. In The Weinstein Firm, we've made our charges to be economical for everyone:
Your consultation is free
There are no out of pocket fees, ever
When we win you money, we will only collect a commission
Otherwise, nothing is paid by you
We'll take out our fee as a portion in the end, if we win cash for you
We take the risk to make sure you can get help if you need it
Is There a Deadline to File an Injury Claim?
There are strict deadlines for filing injury claims and you will be unable to recover anything in any way if you miss your deadline. The deadlines, set by federal and state law, vary depending on the conditions of your injury. You might have up to 2 years from the date of your injury to file a claim. But, some people must file their claims more quickly — sometimes within a few weeks. To avoid giving up your right to recover money, see a personal injury attorney near Douglasville.
You Pay Zero Unless We Win!
Millions recovered for injured victims
Talk, at No Cost, to a Personal Injury Lawyer Near Douglasville at The Weinstein Firm
We get people that are injured the money they deserve. Let us show you how we can assist you after an accident or another kind of injury. We'd like to provide you with a free consultation to answer your queries and to lay out your options. Get in touch with us at (770)HELP-NOW or complete the form today, and get your FREE consultation.