If you've ever been involved in an auto accident, you know how scary it can be. Many of the accident victims our Athens accident attorneys meet with are terrified. In the moments following the collision, a million thoughts cross your mind.
The first one should be whether you've been injured – including permanent injuries, such as facial disfigurement. You'll also worry about whether you can afford to get your car fixed. Or, if your car is destroyed, you'll have to find a way to buy a new car.
Are You Entitled to Compensation?
Depending on the seriousness of the crash, you may be entitled to damages. It can be hard to decide whether you want to pursue legal action. The only way to know for sure is to meet with an experienced Athens accident attorney.
The attorneys at our office have handled thousands of cases over the years. Some of the most heartbreaking cases we have handled are those involving serious injuries like burns, paralysis, and facial disfigurement.
Here, we will discuss what facial disfigurement means and what types of accidents are most likely to cause this sort of injury. We will also explain what types of damages your Athens accident attorney can demand on your behalf.
If you still have questions or concerns after reading this article, don't panic. You can always call our office and schedule your free, initial consultation. Once you meet with one of our car accident lawyers, you'll have a much better idea of how best to proceed.
What Exactly is Facial Disfigurement?
Facial disfigurement is precisely what it sounds like. When you're involved in a serious accident, there is a chance that you'll suffer injuries to your face. You don't have to be a supermodel to want to protect your face and likeness.
When you suffer a deep cut or burn on your face, there is only so much the doctors can do to help you. There is always the possibility that you could end up with terrible scarring or permanent damage to your facial area. This is what we mean when we talk about facial disfigurement.
Some of the Most Common Causes of Facial Disfigurement
It may seem fair to assume that you'd have to be involved in a pretty serious motor vehicle accident to suffer something like facial disfigurement. However, it isn't really the seriousness of the crash that matters. What matters is where the impact comes from. The position you're in at the time of impact also matters.
Imagine that you are in a run-of-the-mill rear-end car accident. You were only going about 30 miles per hour when the accident took place. When the car hits you, the airbags in the driver's seat deploy. This is meant to protect you from serious injury. Unfortunately, depending on how close your face is to the airbag when this happens, you can suffer an even worse injury than you would have if you didn't have airbags.
Other Causes of Facial Disfigurement
Of course, airbags are not the only cause of facial disfigurement. In fact, while car accidents are responsible for about 15-20% of facial disfigurements, there are other causes. Some of these include the following:
Car accidents
Pedestrian accidents
Motorcycle or bicycle accidents
Trip and fall accidents
Dog bites
Workplace accident
Chemical burn
Fire
If you suffer any of these events, there is a chance that you'll experience facial disfigurement. If that's the case, you owe it to yourself to call an Athens accident attorney. They can review your police report and medical records to see how strong your case is. They will also look at other evidence that can help them decide if your case is worth pursuing. This will also help them determine what sort of damages you may be entitled to.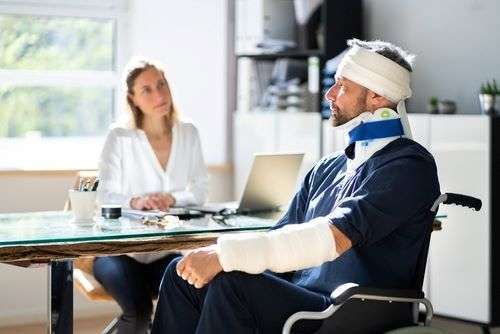 What Kinds of Damages Can Your Athens Accident Attorney Demand on Your Behalf?
The only reason you hire an Athens accident attorney in the first place is to get compensation for your injuries. You can call it justice or retribution. What it comes down to is that you were hurt, and you want somebody to pay – literally! That's where your Athens accident attorney enters the picture.
Depending on the nature and extent of your facial disfigurement, you may be entitled to some or all of the following:
Reimbursement for any medical bills paid by you or your primary health care insurance carrier
Monies to help repair or replace your vehicle
Compensation for lost wages
Compensation for any future lost income
Damages for pain and suffering
In rare cases, you may be entitled to punitive damages
How Does Your Athens Accident Attorney Prove Your Damages?
Of course, in order to collect any damages, your Athens accident attorney will need to demonstrate several things, including:
Your lawyer must prove that the defendant was negligent.
Your Athens accident attorney must also prove that you were injured.
You'll have to submit specific evidence for the damages you demand in your civil complaint.
Ideally, you won't have to go to court. Instead, your Athens accident attorney will settle your case and get you a lump sum payment.
Facial Disfigurement is an Injury That is Not Only Painful But Also Emotionally Damaging
As briefly explained above, your Athens accident attorney may demand that you be compensated for pain and suffering. The only way you'll be awarded pain and suffering is to show that you suffered mental and physical anguish.
If your lawyer can prove that your facial disfigurement caused severe emotional distress, it may qualify you for additional damages.
As stated in the opening of this article, when your face is permanently damaged, be it from scarring or burns, it impacts your life tremendously. Our face is something you cannot hide from the world. You shouldn't have to. We use our faces to communicate with friends and strangers alike. Depending on what you do for a living, you may need to have a normal face to succeed in your career.
Not only can facial disfigurement hurt you from a communications or professional standpoint, but it can also hurt your everyday life. This is why there's a good chance you'll be awarded damages for pain and suffering.
Reach Out to Speak with One of Our Athens Accident Attorneys As Soon as Possible After the Accident
People who have experienced facial disfigurement experience a lot of pain and suffering. If you have suffered any injuries to your face, reach out to our office directly. You can schedule a time to come in and meet with one of our seasoned Athens personal injury attorneys. The consultation won't cost you a thing and can help you decide, once and for all, whether you want to move forward with legal action.