With the price of gasoline today, people who would normally drive to work or school are taking the bus. Not only can it be cost-effective, but it also gives you a chance to relax on the way to or from work. Unfortunately, our Dublin accident lawyers have seen, first-hand, what happens when people are involved in a bus accident.
Here, we'll explain what kind of damages your Dublin bus accident lawyer may be able to demand in your claim. We'll also discuss how your attorney will go about pursuing your claim.
How Common Are Bus Accidents?
Many of our clients are surprised to learn just how common bus accidents are in the State of Georgia. According to the Georgia Department of Transportation, more than 15,000 people are injured every year in bus accidents. Sadly, more than 300 people die from their bus accident injuries as well.
This number may not seem like a lot. However, the statistics can be misleading. When one considers how few buses are on the road as compared to cars and SUVs, it is surprising that there are this many serious bus accidents.
Dublin Accident Attorneys Have Handled All Types of Bus Accident Cases
Over the years, our Dublin bus accident lawyers have seen all types of bus accidents. Some are minor fender-benders. Perhaps the bus rear-ends another vehicle. Or a commercial truck taps the back of the bus in busy traffic.
These accidents don't tend to cause serious injuries. At least for the most part, they don't.
Other times, a client comes to us after being involved in a devastating bus accident. They may have been on a bus on the way to a resort or casino. Halfway there, the bus driver loses control, and the bus ends up flipping upside down.
In situations like this, there's no end to the types of injuries you may suffer.
What Are Some of the More Common Causes of Bus Accidents in Dublin, Georgia?
The things that cause bus accidents tend to be the same thing that causes other motor vehicle accidents. For example, the bus driver may have been over-exhausted. Perhaps they worked for sixteen hours straight without a break.
Some of the other more common causes of bus accidents in Georgia include:
Speeding
Distracted driving
Taking a corner too fast
Driving under the influence
Driver fatigue
Inexperience
Negligence by a third party
Whatever the cause, your Dublin accident attorney will get to the bottom of it. They'll also make sure you file a claim against all potential defendants.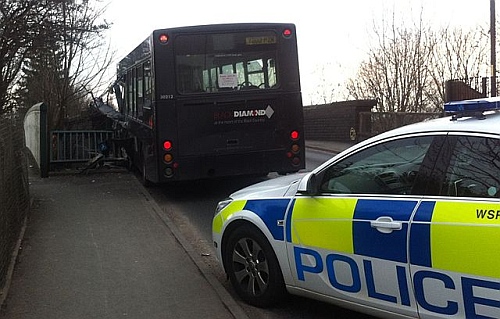 What Damages Can Bus Accident Victims Recover?
Your Dublin bus accident lawyer can help you pursue compensation for some or all of the following:
Medical expenses
Lost wages
Loss of future income (if you're left disabled)
Pain and suffering
Your Dublin Bus Accident Lawyer May Have to Pursue More Than One Party
In a typical car accident, there are two cars involved. All your Dublin accident attorney has to do is help you file your claim against the other driver's insurance company. If they refuse to pay your claim, you can file suit against the other driver directly.
With a bus accident, it's much more complicated. Not only do you have a potential claim against the bus driver, but you may also have to pursue damages from other parties.
For example, you'll have to file a claim against the bus company. If it's a private charter bus company, then you'll file a claim with their insurance company. If, however, you're injured while riding a city bus, it can become even more complicated.
Additionally, there is always the chance that you'll have to pursue a third party for damages. If the bus you were on was hit by an errant driver or someone who was speeding, you'll need to pursue them as well.
Your Dublin Bus Accident Lawyer May Run into a Problem Demanding Damages
One of the tricky things about a bus accident case is that there are often several plaintiffs. If you were on a charter bus, there could be as many as fifty or seventy-five passengers. Even on a city bus, there could be just as many.
If there is an accident, there's a chance that everybody on the bus was hurt. If everybody files a claim with the bus company's insurance carrier, there may not be enough money to pay everybody's claim.
When this happens, the insurance carrier has to make tough decisions. The adjuster handling the various claims will more than likely deny a number of the victims' claims. Yours could be one of the chosen few.
The Defendant's Insurance Policy Probably Won't Cover the Total Damages
You may be worried that there won't be enough money to go around. That's something your Dublin bus accident lawyer will worry about as well. One consolation, for what it's worth, is that you can still sue the defendant directly.
If the insurance policy doesn't offer enough coverage to pay all the bus passengers' claims, your Dublin accident attorney may have to sue the bus driver or their employer for the remaining damages.
Your Dublin Accident Attorney Will More Than Likely Settle Your Claim
One thing our Dublin bus accident lawyers always tell their clients is that there's a good chance their claim will settle. Most people don't realize that only about 5% of accident cases go to trial.
As part of your Dublin accident attorney's settlement negotiations, they'll have to be willing to compromise. From the perspective of the insurance carrier, it would be best if they could settle everyone's claims.
Call a Seasoned Dublin Bus Accident Lawyer and Schedule Your Free Consultation
One of the things our Dublin accident attorneys have learned is that, when it comes to bus accidents, they tend to lean to the extremes. It seems like half of the bus accidents we investigate cause very minor injuries. The other half tend to leave their victims in terrible shape.
Regardless of what type of bus accident you were involved in, it's a good idea to contact our office. We suggest you give us a call at (770) HELP-NOW. Schedule your free, initial consultation over the phone or you can do so through our website.
You owe it to yourself to find out whether your claim has merit. You also need to know what your options are. After contacting our Dublin bus accident lawyers, you'll have a much better idea of how best to proceed. You'll also have a better idea of what your case is worth.