Losing a beloved family member is a devastating moment. Emotionally challenging, confusing, and surreal, the idea of making vital decisions about the future during this period can seem alien, overwhelming, or simply impossible. Anytime a death occurs during an accident, it is recommended that you contact an experienced Alpharetta, Georgia wrongful death lawyer. With expert assistance from a qualified wrongful death attorney, you can hold the guilty parties accountable and recover compensation for your loss.
The Basics of Working with an Alpharetta, GA Wrongful Death Lawyer
The term "wrongful death" refers to a person who is killed due to negligence or misconduct on the part of another person or entity. In order to have a strong wrongful death claim, there must be a number of elements present. The most important among those elements include:
Negligence, or willful intent to harm on the part of another person
Financial strain as a result of the death
A death that resulted from criminal behavior, poor supervision, occupational hazard exposure, medical malpractice, or similar
By speaking to wrongful death lawyers in Alpharetta, GA like those at The Weinstein Firm, you will be able to get a better idea of the usual scenarios in which one can recover compensation in a wrongful death case. Financial injury is primarily the means by which damages are determined in wrongful death cases. Depending on the specific circumstances of the death, surviving family members can sometimes sue for loss of financial support, medical costs, funeral costs, and even interest calculated beginning on the date of death. A good wrongful death lawyer will also seek damages for pain and suffering, and often punitive damages as well.
Getting Prepared: Follow your Alpharetta Wrongful Death Lawyer's Lead
Wrongful death is always unexpected. It is sudden, gutting, and unthinkable to deal with no matter who is the victim or loved ones. No matter what the circumstances of your loved one's death, you are understandably not prepared for the complications left in the wake of a loved one's death. By following the lead of your Alpharetta wrongful death attorney, however, you can keep a handle on the situation. Listen to your wrongful death lawyer, and follow his or her advice. This assistance will make the process of coping more bearable, while your wrongful death attorney focuses on helping you navigate the process of recovering the compensation you deserve for such an unimaginable loss.
In preparation for a wrongful death case, our wrongful death lawyers often advise their clients through a number of common phases.
The first phase of a wrongful death case is the investigation and research stage. This is done first and is often the most important factor in preparing for your case. Your wrongful death attorney will look at the facts surrounding your case. To make this process easier, try to keep a file of all the information you have, organized neatly. Accident reports, medical records, medical bills, insurance documents, and so on. You can begin compiling this information before you retain a wrongful death lawyer if you like. Once you have hired an experienced wrongful death lawyer to help you, you will be guided to seeking out other types of evidence.
Second, you and your wrongful death lawyer will likely examine the possibility of a pre-trial settlement. Whether your wrongful death case deals with a workplace mishap or medical malpractice, your wrongful death attorney will advise you as to the best route for financial recovery. Settlements allow you to recover compensation more quickly, without the costs and hassle of going to trial. You and your wrongful death lawyer will need to make a decision as to what sort of settlement you would potentially take. This will give your attorney leverage while at the negotiation table.
While pursuing your wrongful death case, be careful about sharing information. These claims can take a long time until they are finished, and until the case is finalized, it is best to keep the specifics a secret. You should especially be mindful of the information you post on social media websites, even if you have set your privacy settings. Even a photo or innocuous post can be used against you in an attempt to reduce the accident severity or otherwise discredit you and your story. Your personal injury lawyer can help you understand more about why and how to maintain your privacy through the process.
Finally, and unfortunately, don't expect your wrongful death claim to be settled quickly. While a quick settlement may be possible through negotiations before court, often these cases go to trial. Working with your wrongful death attorney, get prepared for a long and sometimes cumbersome process which will be a test of your patience and poise. Your wrongful death lawyer will work diligently to prepare for your case and to make sure that you are informed and ready for the process.
In some wrongful death cases, our attorneys often have the sad task of informing a grieving family member that their case is not one of wrongful death. A fatal mistake is not necessarily the same as negligence, and even if someone else is at fault for a loved one's death, holding that person accountable in a court of law can be difficult or impossible. Medical treatments, for instance, have inherent risks that the patient is informed of prior to the treatment being administered. Complications during surgery do not imply negligence on the part of the surgeon or a member of hospital staff. Your wrongful death lawyers will examine the circumstances of your loved one's death and will consult experts to determine what course of action is best for you and your family.
Wrongful Death Laws in Georgia
In general, the specifics of a wrongful death suit will apply anywhere in the US, but local provisions can have an impact on a trial's outcome. For this reason, it is advisable to work with an Alpharetta, GA wrongful death lawyer. As local legal professionals, our wrongful death attorneys are familiar with all the relevant statutes and local provisions and can provide a very effective strategy for your case.
Legally speaking, actions that are willfully wrong and actions of neglect may both entitle a surviving family member to pursue a wrongful death claim against the at-fault party. The action which is neglectful or wrong should be a similar type of action which would justify a personal injury claim should the deceased family member have survived. In simpler terms, a wrongful death claim is, legally speaking, fairly similar to a personal injury claim in which the injured person did not survive.
If you are the surviving spouse or child, wrongful death lawyers can begin legal action by working with you. If the deceased person had no children and was unmarried, wrongful death claims may be begun by the parents.
The damages payable in a wrongful death claim are determined by the jury, and it is calculated in proportion with the magnitude of the damages suffered by the family as a result of the loss. The amount recovered in the form of a compensation payment will be paid out equally among surviving family members, in most cases. Bear in mind that even if the parties involved in your wrongful death claim are willing and capable of settling before trial, this settlement will still need to be approved by a court.
Some of the types of damages which may be recovered as compensation for your wrongful death claim include:
Medical and hospital bills
Lost wages including benefits
Funeral expenses
Property loss
Loss of companionship and consortium
Pain and suffering
Punitive damages
In the state of Georgia, wrongful death claims must be made within a period of three years of the death of the family member. Unsurprisingly, the sooner the claim is made, the better it is for the surviving family.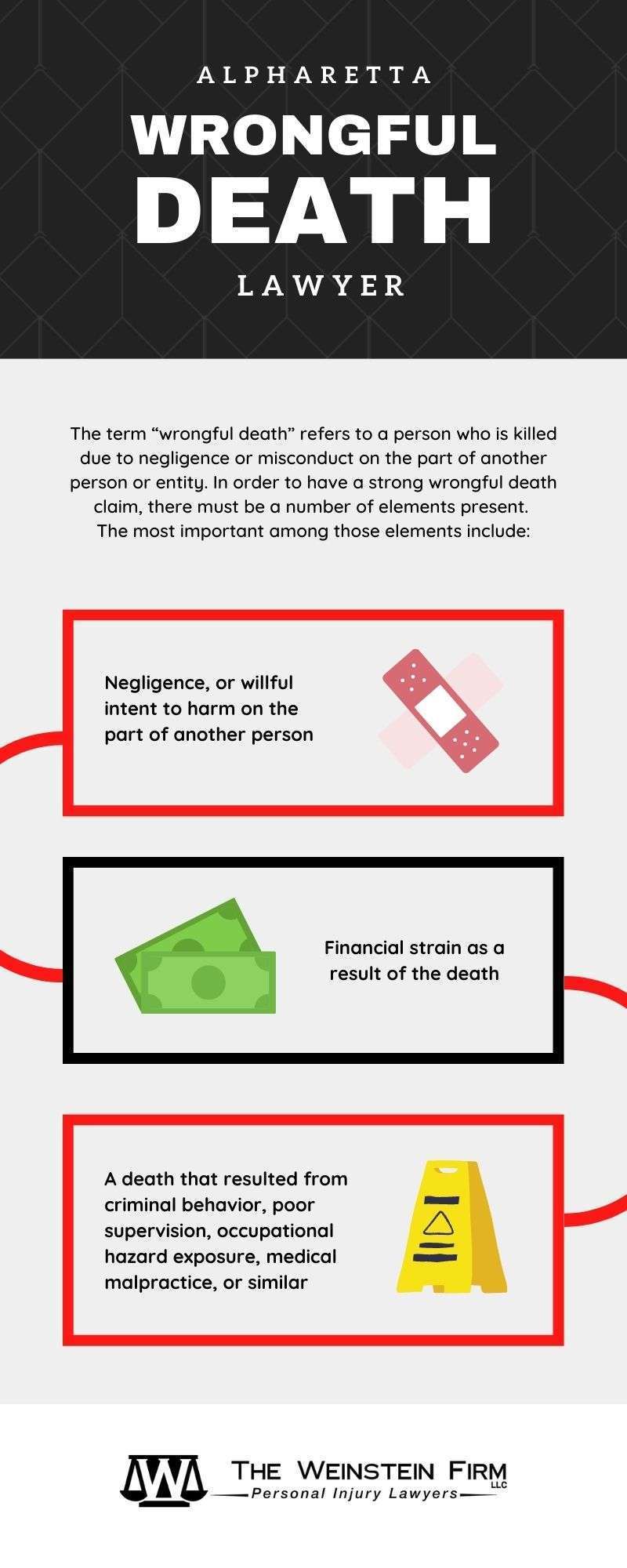 Choosing a Wrongful Death Lawyer
Needless to say, a great deal will be riding on the success or failure of your wrongful death claim. Often the death of a family member is a significant financial blow to a family. A successful wrongful death claim will not dull the emotional and mental strain of losing a loved one, but it can make it easier for the family to begin putting their lives back together.
Wrongful death claims are both lengthy and complex, and if you are going through one, you must not try to go it alone, or simply hire the first wrongful death lawyer in Alpharetta you see. You must work every day to find an experienced and knowledgeable wrongful death attorney who specializes in the field of wrongful death. We believe that The Weinstein Firm is a fine place to find such a wrongful death lawyer.
When searching through the long list of wrongful death attorneys near Alpharetta GA, it is easy to get lost in the loss. Doing extensive and thorough research during a period of such grief and anguish will be almost impossible. For this reason, we recommend you start with personal recommendations and referrals. If you have friends or family who has used a wrongful death lawyer or personal injury attorney in the past, you may be able to quickly narrow down the list of possible attorneys for your wrongful death case.
When The Weinstein Firm was founded by Harris and Michael Weinstein, it was done with the dedication to the idea of giving our injured clients a level playing field. We believe that everyone deserves legal representation equal in magnitude and dedication to the legal teams held by large corporations, major insurance companies, and even government entities. No matter what the nature of your wrongful death case in Alpharetta, the experienced lawyers at The Weinstein Firm take an aggressive, uncompromising, and dedicated stance that places you and your family at the center of all we do.
We understand the pain and grief of losing a loved one, and the strain and worry that preparing for a lawsuit can bring. Our wrongful death lawyers are available for any possible legal assistance. We can take on your legal burdens so that you can focus on grieving, remembering, finding closure, and moving on with your life. We treat each and every one of our clients with compassion and respect. Our wrongful death lawyers will listen to you, provide unyielding support, and pursue justice for your family on your behalf.
Once you have identified a potential candidate for a wrongful death lawyer in Alpharetta, Georgia, you will want to check on that lawyer's experience with cases which are similar to yours: look for a wrongful death attorney who has argued medical malpractice, workplace accidents, or a circumstance similar to yours in the past. Wrongful death attorneys who specialize in a field can provide streamlined, expert counsel.
Finally, your wrongful death lawyer should be ready to go the distance. Wrongful death cases do settle out of court, but in the case that a settlement offer cannot be reached, you will need to pursue the case in court. This means you should steel yourself for a long and complex battle, and you need to have a wrongful death attorney you can count on to be there through the entire process, unwavering.
As your advocates for your wrongful death case, the commitment that the wrongful death lawyers at The Weinstein Firm are ready to make to you includes:
A case evaluation with no obligation whatsoever
No fees unless you win
Detailing all available options so that you can make an informed decision
Open lines of communication from start to finish
Protecting your rights, immediate needs, and safeguarding your interests in the long term
Absolute dedication to achieve the best possible resolution in your wrongful death case
Consult with a Wrongful Death Lawyer in Alpharetta, Georgia About Your Case
To the Georgia wrongful death lawyers at The Weinstein Firm, you are much more than just another case file. You are a human who has been forced, through no fault of your own, to suffer an unimaginable loss. The wrongful death attorneys here at The Weinstein Firm in Alpharetta are ready to listen to you. Contact us today.