When our auto accident attorneys in Riverdale first meet with a new client, they usually have a ton of questions. However, one of the first questions they ask us is how much their case is worth and if they need to file a car accident lawsuit. They also want to know how long it'll take to get them their money. Unfortunately, any Riverdale accident lawyer worth their salt will tell you that there is no fair answer to this question.
Until we've had ample time to review your case and see what the insurance carrier's position is, we have no idea what your case is worth. What we do know is that most of the auto accident cases we handle are settled out of court.
More Than 95% of All Car Accident Lawsuits Settle Long Before Trial
When we mention to our clients that their case will probably settle too, they become unnerved. Part of the reason for this is that they think this means they'll get less money. They're also worried about what can happen if they settle and then find out months later that they settled for too little.
For example, if they find out that their injuries were worse than their doctors first thought, they may need additional medical care. They tend to think that they can go back and sue the defendant for more money. That is not the way the law works.
Here, we will discuss the settlement process in general. We will also explain the benefits and risks of settling your lawsuit out of court. Finally, we will clarify the fact that, once you settle and receive your funds, you can never sue the defendant again.
There Are Many Reasons Why Your Auto Accident Attorney in Riverdale Will Encourage You to Settle
When you first file your auto accident lawsuit, you may think it's worth a certain amount of money. You and your auto accident attorney in Riverdale can sit down and determine how much money you think you're entitled to. For example, if your medical bills are $500,000, then your lawyer will demand $500,000 just for your medical bills. The same is true for your vehicle. If it cost $3,000 to fix it, then your Riverdale accident lawyer will demand $3,000 in property damage.
As easy as this may seem, it would be dangerous to assume that you're going to receive the full amount you demand in your initial complaint. This is because, historically, more than 95% of all personal injury lawsuits settle out of court.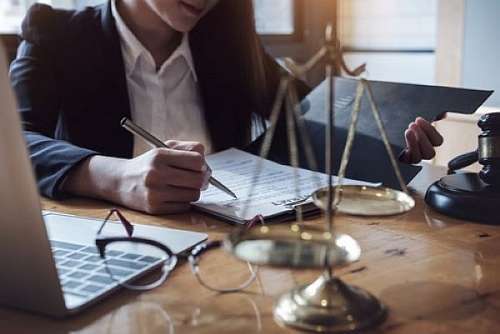 Why Do So Many Car Accident Lawsuits Settle Out of Court?
There are numerous reasons why a plaintiff would choose to settle their lawsuit. When you think about it, a settlement is in the best interest of everyone involved. Some of the more common reasons our clients settle their cases include the following:
When you settle, you walk away with a lump sum of money. You don't have to wait a year or two to go to trial, hoping that you'll win. You also won't have to worry about carrying a judgment around for twenty years, praying that the defendant pays it somehow.
If your Riverdale accident lawyer settles your case, you won't run the risk of losing at trial. If you lose in court, you walk away with nothing.
It is a lot cheaper to settle your case. When your case concludes, you'll have to reimburse your auto accident attorney in Riverdale any money they spent on your case. You want to keep this number to a minimum.
If you go to trial, it can take a year or longer to resolve your case. Most people cannot afford to wait that long to get the money they deserve.
When you first meet with your auto accident attorney in Riverdale, they may go into further detail about why they would want to settle your lawsuit.
Your Riverdale Accident Lawyer Will Also Explain the Risks Associated with a Settlement
While there are numerous benefits to settling your case, there are also risks. There are no guarantees in life and there are no guarantees in the law. There is always the chance that you could regret settling your case after the fact.
Your Riverdale accident lawyer doesn't have a crystal ball. There is no way to know, for sure, what would've happened had you gone to trial. While there is the chance that you could have won and received every dime you demanded in your initial complaint. At the same time, you could go to trial and lose. If that happens, you walk away with nothing.
Another risk of settling is that you underestimate the value of your case. This is especially important when it comes to your medical bills, lost wages, and lost future income. When you settle your case, it may be under the auspices of your doctor saying that you are fully healed.
You could find out a day after your settlement is paid that your injuries are much worse than you thought. You may find out that your medical bills will end up being five times what you thought they were going to be. If you end up needing extensive medical care after you settle your lawsuit, you will have to pay for that yourself. You will likely miss time from work if your injuries resurface. You could even end up permanently disabled.
Your Auto Accident Attorney in Riverdale Come Back Later and Demand Additional Damages
If you're involved in a motor vehicle accident, you may need to pursue the other driver for damages. You have every right to handle this all by yourself. However, it's usually a good idea to retain a seasoned auto accident attorney in Riverdale. Not only do they know the law, but they're also really good at negotiating settlements on behalf of their clients.
As discussed here, it's usually best for everyone if your Riverdale accident lawyer can settle your case. Just beware – if you settle, you cannot come back months or years later and ask for more money. It doesn't work that way. This is something that your auto accident attorney in Riverdale will explain when you first meet.
If you think you may be entitled to damages, you should call our office as soon as possible after your car crash. We can schedule your free, initial consultation over the phone or you can do so through our website.
If you still think you would be better off handing things on your own, that's perfectly fine. That's why we offer all new clients a free consultation. This gives you a chance to decide if you want to retain our services. It also gives our Riverdale injury lawyers a chance to see if they want to represent you.